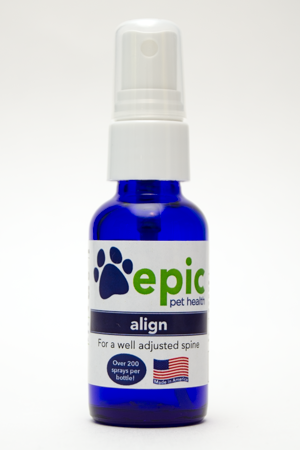 Align - for good spinal and muscle alignment. Use with injury recovery or chronic health problems.
The Align supplement relaxes your pet's spinal nerves and muscles. It simulates a chiropractic adjustment to reduce pain. This is good for a pet who is recovering from an injury.
Directions: For best results apply to the spinal area, one to three times daily. Also put in food and water. Use once per day for maintenance and three times per day to reduce pain.
Ingredients: Water, Alkaline Minerals, (Magnesium, Zinc, Potassium, Calcium, Iron, Other Trace Minerals) and Electrolytes (Vitamin D, Vitamin C, Vitamin B, Vitamin A, Vitamin E, Oxygen)